This experiment was performed to find out if hamsters that are shown human affection are able to learn more quickly compared to those that were not given any affection. The learning ability of each hamster was judged using a maze
Hamsters that are shown human affection will be able to learn more quickly.
Animals and emotions

Scientists still disagree if animals have emotions like we humans do. We all know that animals feel pain and care for their newborn, but we do not know if these acts are done out of emotion or instinct.

Animals that are domesticated at home, lab specimens, animals in our zoos and animals found in the wild may all respond differently in a certain environment.

Animals that are caged up in a zoo or a laboratory will not have much opportunity to interact with people and the outside world. This would have suppressed their curiosity and learning abilities. This may be very much like a child who does not go to school to interact with other children and who may therefore lose the interest or desire to learn.

On the other hand, animals that are kept as pets at home (if they are well taken care of) and those that live in the wild will have plenty of opportunities to interact with others and their environments. Their curiosity and learning abilities will be enhanced from practice and they are also livelier and healthier.

The materials required for this science fair project:

- 6 hamsters

- 2 cages for the hamsters

- 1 packet of sunflower seeds

- Cardboards or old carton boxes (quantity as may required to make the maze)

- 1 pair of scissors

- 1 roll of masking tape

- 1 bottle of glue

- 1 stopwatch

- 1 meter-long ruler
1. For this experiment, the independent variable is whether or not the hamsters are given any affection. The dependent variable is the time taken for the hamster to complete the maze. This is determined by measuring the time using a stopwatch. The constants (control variables) are the size and type of the maze, where the hamsters come from, how hungry the hamsters are, and the type of food used. Ensure that the hamsters all come from the same litter.

2. The 6 hamsters are divided into 2 groups marked group A and group B. They are kept in cages marked A and B. The hamsters kept in cage A and cage B are given the same amount of food, water and living conditions. However, the hamsters in cage A are to be given a lot of human affection. Time is spent patting and playing with the hamsters everyday for at least 2 hours, until it is clear that the hamsters have become friendly towards you. The hamsters in cage B are not shown any human affection at all and are left to themselves.

3. A maze approximately 500mm x 800mm in size is made using cardboards, glue and masking tape. The height of the maze must be at least 200mm so that the rodents do not jump out of the maze. See figure 1 for an example of the maze.

4. Once the maze is completed, it is left outside for 2 days for the smell of the glue to dissipate. This is because hamsters depend on smell to find food and the smell of the glue can be a distraction/hindrance.

5. Some sunflower seeds are placed in the finish zone of the maze. The hamsters are placed in the start zone of the maze one at a time one. The time taken for each hamster to find the food is clocked and recorded in the table given below.

6. Procedure 5 is repeated once a day for 7 days and all the timings are recorded in the table.
The hamsters in cage A were able to learn the maze and complete it faster than the hamsters in cage B.

Days

Cage A hamsters time(seconds)

Average

Cage B hamsters time(seconds)

Average

Hamster1

Hamster2

Hamster3

Hamster1

Hamster2

Hamster3

1

48

46

44

46

45

42

42

43

2

44

42

40

42

41

39

37

39

3

38

36

34

36

35

32

32

33

4

32

29

29

30

32

30

28

30

5

26

22

21

23

29

27

25

27

6

19

19

16

18

26

26

23

25

7

12

14

10

12

25

24

23

24

The graph below represents the results of our science project experiment.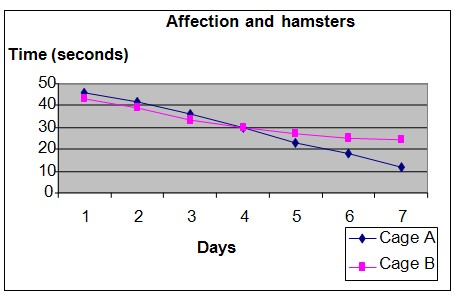 The hypothesis that hamsters that are shown human affection will be able to learn faster is proven to be true.

Whilst animals are able to be benefit from the affection that we give them, it is also a fact that we human beings in turn benefit from the affection shown to us by our pets. Domesticated animals are kept at home as pets for children to play with and also for security, as in the case of guard dogs. Dogs and cats are also being used to help elderly patients to show love and affection and this has been proven to have healing effects on them. Dogs are also trained to help blind persons to walk on streets and even to cross roads!

The experiment can also be done using a different kinds of feedlike dried shrimps.

How will the results be if the experiment was done using white mice shown affection vs. wild mice? What about dogs? or cats?

Hamster - http://en.wikipedia.org/wiki/Hamster

Emotions in animals - http://en.wikipedia.org/wiki/Emotion_in_animals