| | |
| --- | --- |
| | Classical music or silence |

Complexity level:
9
Project cost ($):
20
Time required:
1 hour to prepare, 10 days for the experiment
Material availability:
Easily found
Safety concerns: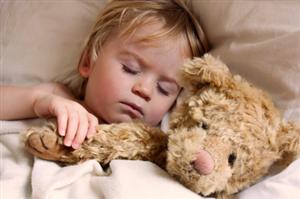 Abstract
This experiment was performed to investigate how classical music and silence affect children's sleep. The experiment was performed on preschool kids.
Hypothesis
Children made to listen to classical music will be able to fall asleep more quickly.
Background
Sleep in children

Sleep is an important part of the human routine. It helps our mind to rest and our body to recuperate after a long day's work. Children require more sleep than adults because they need to grow and develop. A newborn baby will require 18 hours of sleep a day compared to 12 hours for children, and 8 hours for adults.

Babies are used to listening to their mothers' heart beat for nine months whilst in their mother's womb. Therefore they are more accustomed to rhythmic background sounds. It gives them security. After the child is born, this need for a sound can be replaced by a slow lullaby, slow classical music, the ticking of a clock or the sound of flowing water.

Consistency is very important, for children to feel secure. Children will normally feel uncomfortable when the environment changes. Sudden silence can also be such a change. That is probably why sometimes children sleep better with light music in the background. Another problem with a silent environment is that any sudden noises in the background would be enough to wake up the child.
Scientific Terms
Recuperate, heartbeat, womb
Materials
The materials required for this science fair project:
- Permission from the selected nursery to do observation, ensuring that parental consent forms have been signed
- 10 nursery children aged 4 to 5 years old
- 1 classical music CD
- 1 CD player
- 1 stopwatch
Procedure
1. For this experiment, the independent variable is either silence or playing classical music during the children's nap time. The dependent variable is the time it takes for the child to sleep. This is determined by using a stopwatch to time and observe the child not making any movement for 5 minutes. The constants (control variables) are the age of the children, the gender of the children and the environment of the room (bed firmness, air conditioning, etc).

2. Permission is obtained from the nursery school administration and the parents of the selected children to observe their children's sleeping pattern for the next 10 days.

3. Arrangements are made with the school to maintain a similar level of activity for the children in the nursery for the next 10 days. This is so that the children do not become more tired on certain days and go to sleep early due to tiredness and not the environment.

4. On the odd days of observation (1st, 3rd, 5th, 7th and 9th days) no music is played. The children are made to sleep in the quiet room. The time taken for each child to sleep is recorded in the table below.

5. On the even days of observation (2nd, 4th, 6th, 8th, 10th days) classical music is played in the background whilst the children sleep. The time taken for the children to fall sleep is again recorded in the table below.
Observation
The results showed that the children were able to fall asleep more quickly on the days that the classical music was playing in the background.
Condition

Days

Time taken for child to go to sleep (minutes)

Child1

Child2

Child3

Child4

Child5

Child6

Child7

Child8

Child9

Child10

Silence

1

15

22

18

8

12

22

12

22

28

8

3

18

18

15

4

14

26

15

26

22

12

5

12

24

18

8

15

24

15

18

24

14

7

18

20

20

6

12

22

18

18

24

12

9

10

22

22

8

10

20

12

20

28

10

Average

14.6

21.2

18.6

6.8

12.6

22.8

14.4

20.8

25.2

11.2

Classical Music

2

8

12

15

4

8

18

10

18

22

8

4

4

10

13

6

6

15

8

16

20

6

6

12

15

14

4

8

18

10

16

22

6

8

8

12

11

4

4

18

6

14

18

4

10

8

15

10

4

8

20

8

18

24

8

Average

8

12.8

12.6

4.4

6.8

17.8

8.4

16.4

21.2

6.4
The chart below represents the results of our observation.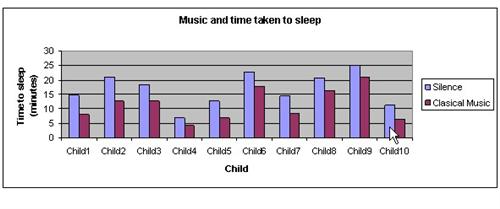 Conclusion
The hypothesis that children who are made to listen to classical music will be able to fall asleep more quickly, is proven to be true.

Most parents have difficulty making children fall a sleep at night. Babies who sleep about 14 hours a day will need to be fed and have diapers changed many times in the night. However, having the proper environment with light music can help a child sleep for a longer period of time by keeping the child calm and feeling secureu.
Also consider
The experiment can also be repeated using different types of music like lullaby or pop music.

Try to compare the results by repeating the experiment by checking the number of times the children wake up during their nap time.
References
Using music to help your infant sleep - http://www.thelaboroflove.com/articles/using-music-to-help-your-infant-sleep/

Toddler insomnia – will using music help baby sleep - http://www.articlesbase.com/sleep-articles/toddler-insomnia-will-using-music-help-baby-sleep-1844886.html
Videos