| | |
| --- | --- |
| | The effect of nitrate levels in water on the growth of plants |

Complexity level:
8
Project cost ($):
20
Time required:
1 day to prepare, 10 days for the science project experiment
Material availability:
May be purchased at a plant nursery
Safety concerns:
Basic safety requirements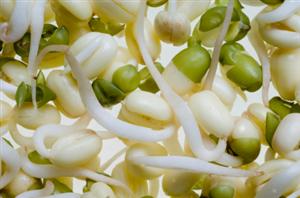 Abstract
This science fair project was conducted to ascertain the effect of water nitrate levels on plant growth. This will help us better understand how to use fertilizers to help plants grow better.
Hypothesis
Watering mung beans with water containing nitrates will help them grow more quickly.
Background
Nitrates

Nitrogen is a very important element in the growth and survival of plants and animals. It is one of the basic elements found in proteins. Plants have both protein based and non-protein based compounds in them. Some of the non-protein based compounds in them are nitrates, amides, nitrides, peptides and free amino acids.

Decomposition of animal and plants will reduce oxygen levels and increase nitrate levels. Bacteria will help to break down protein molecules into ammonia, which will merge with oxygen to create nitrite and nitrates. Too much nitrates will cause plants to grow faster.

Nitrate levels are also increased due to excessive fertilizer use, septic tank leakages and poor waste water treatment. Normally phosphate levels also increase together with the level of nitrates. Phosphates will cause the growth and decomposition of algae to increase and this will further reduce the level of dissolved oxygen.
Scientific Terms
Nitrate, amides, nitrides, peptides, amino acids, bacteria, ammonia
Materials
The materials required for this science project experiment:
- 1 packet of mung beans
- 6 pots
- Soil required for the 6 pots
- Nitrate fertilizer
- Tap water
- 6 beakers
- 1 digital weighing machine
- Ruler (1 meter)
Procedure
1. For this science fair project, the independent variable is the concentration of nitrates in the water. The dependent variable is the growth of the beans. This is determined by measuring the average height of the 3 plants in each group. The constants (control variables) are the amount of water used, the amount of sunlight and the type of plant used.

2. The 6 pots are filled with the same amount of soil. Three mung beans are placed in each pot. (More than 3 mung beans can be used in each pot in case some of the seeds do not germinate. Once they start to geminate, remove the unwanted plants from the pot)

3. The 6 pots and 6 beakers are labeled as A to F. Nitrate solutions are mixed in the beakers according to the ratios mentioned below,

a. Beaker A will contain only tap water

b. Beaker B will contain 0.1 gram of nitrate with 100ml water (0.1%)

c. Beaker C will contain 0.2 gram of nitrate with 100ml water (0.2%)

d. Beaker D will contain 0.3 gram of nitrate with 100ml water (0.3%)

e. Beaker E will contain 0.4 gram of nitrate with 100ml water (0.4%)

f. Beaker F will contain 0.5 gram of nitrate with 100ml water (0.5%)

4. The beans are watered as mentioned above and observed for 10 days. Thier average height is measured every 2 days and recorded in the table below.
Observation
It is observed that the plants in pot B (0.1% nitrate) will grow the tallest followed by the plants in pot A (0% nitrate) and pot C (0.3% nitrate) which are at almost the same level. Pots D, E and F demonstrate slower growth.
Pot No.

Nitrate Content (%)

Plant height (mm)

Start

Day 2

Day 4

Day 6

Day 8

Day 10

A

Water

0

23

49

81

118

157

B

0.1% nitrate

0

29

61

98

139

184

C

0.2% nitrate

0

19

43

73

111

151

D

0.3% nitrate

0

12

26

42

57

72

E

0.4% nitrate

0

0

5

11

18

26

F

0.5% nitrate

0

0

3

7

9

12
The graph below represents the results of our experiment.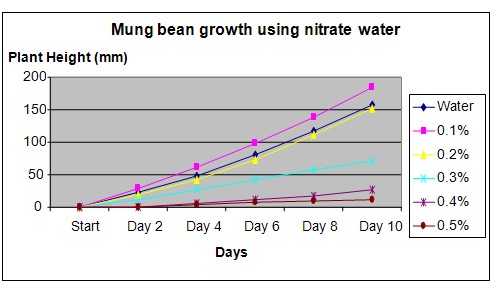 Conclusion
The hypothesis that watering mung bean plants with water containing nitrates will help them grow more quickly is proven to be true only to a certain extent. The plants grew more quickly with 0.1% nitrate solution (pot B). The growth rate fell in the other pots indicating an overdose of nitrates.

The excessive use of nitrate based fertilizers can cause nitrate to leak into our drinking waters. Levels of nitrates above 10ppm in drinking water is known to cause health problems. Nitrate leakage into ponds will increase the levels of ammonia, which is toxic to fishes.
Also consider
Consider repeating this science fair project to study how fishes are able to survive in water containing nitrates?

The science project experiment can be repeated to compare the growth of different types of plants.
References
Nitrate in soils and plants - http://extension.missouri.edu/publications/DisplayPub.aspx?P=G9804

Water quality and nitrates & phosphates - http://www.ncsu.edu/sciencejunction/depot/science fair projects/water/lessons/np/

Level of nitrogen vs. plant growth - http://www.selah.k12.wa.us/SOAR/SciProj2000/MorgenA.html
Videos