| | |
| --- | --- |
| | Effect of acid rain on sunflower growth |

Complexity level:
8
Project cost ($):
30
Time required:
1 day to prepare, 14 days for the science project experiment
Material availability:
Easily found
Safety concerns:
Handle acid with care – use protective clothing/goggles.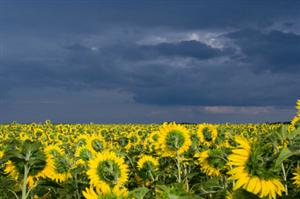 Abstract
This science fair project was conducted to find out how acid rain affects the growth of sunflower plants. The science fair project was carried out by watering the plants with water of different pH levels.
Hypothesis
Sunflower plants will grow best at pH levels between 5.5- 7.5.
Background
Acid rain and plant growth

The release of nitrogen and sulphur dioxide by factories and vehicles is one of the main causes of acid rain. These gases combine with water vapor in the sky and turn into sulfuric and nitric acid. They are then returned to the surface during rainfall. Because of the low pH level of this rain water, it is called acid rain.

Acid rain does not fall at the place where the water vapor that forms the acid rain the first place, was released into the atmosphere. The water vapor may travel over long distances for days or weeks, depending on the direction and intensity of the wind, and finally fall somewhere far away, perhaps in a neighboring country! Rain water normally has a pH of around 6.0. However acid rain is able to reach a pH of between 4.0 and 5.5.

Acid rain has serious effects on plants and vegetables. Acid rain can damage a plants' roots, cause stunted growth and even kill the plants. Nutrients in soil are destroyed and the micro-organisms that help produce these nutrients are killed by acid rain. The plants that survive are usually very weak and vulnerable.
Scientific Terms
Nitrogen, sulphur dioxide, water vapor, sulpheric acid, nitric acid
Materials
The materials required for this science fair project:
- 1 packet of sunflower seeds
- 5 pots
- Soil required for 5 pots
- 1 bottle of sulfuric acid
- 1 bucket of rain water
- 5 beakers
- pH/litmus paper
- Ruler (1 meter)
Procedure
1. For this science fair project, the independent variable is the acidity of the water used to water the plants. The dependent variable is the rate of growth of the sunflower plants. This is determined by measuring the average height of the 3 plants in each group. The constants (control variables) are the amount of water used, the amount of sunlight and the type of plant used.

2. The 5 pots are prepared by filling the same amount of soil into each pot. Sunflower seeds are placed in each pot. More than 3 sunflower seeds can be used in each pot in case some of the seeds do not germinate. Once the seeds start to geminate, remove the unwanted plants from the pots.

3. .The 5 pots and 5 beakers are labeled as A, B, C, D and E respectively. Each beaker is filled with 200 ml of rain water. Sulfuric acid is added to the water in each beaker until the following conditions are obtained :

a. Beaker A will have only rain water (pH 6.0)

b. Beaker B will have sulfuric acid added until it measures pH 5.0

c. Beaker B will have sulfuric acid added until it measures pH 4.0

d. Beaker B will have sulfuric acid added until it measures pH 3.0

e. Beaker B will have sulfuric acid added until it measures pH 2.0

4. The sunflower plants are watered using water from beaker A for pot A , beaker B for pot B, beaker C for pot C, beaker D for pot D and beaker E for pot E. They are watered twice a day and observed for 14 days. The average height of the 3 plants is measured every 2 days and recorded in the table below.
Observation
It is observed that the sunflower plants in pots A (pH 6) and B (pH 5) demonstrated normal growth. The sunflower plants in pot C (pH 4) demonstrated stunted growth. The seeds in pots D (pH 3) and E (pH 2) did not germinate.
Water pH

Sunflower seed germination and height (mm)

Start

Day 2

Day 4

Day 6

Day 8

Day 10

Day 12

Day 14

A.

pH 6.0

0

0

25

56

83

114

143

183

B

pH 5.0

0

0

21

52

76

97

123

154

C

pH 4.0

0

0

4

14

31

44

61

76

D

pH 3.0

0

0

0

0

0

0

0

0

E

pH 2.0

0

0

0

0

0

0

0

0
The graph below represents the results of our science project experiment.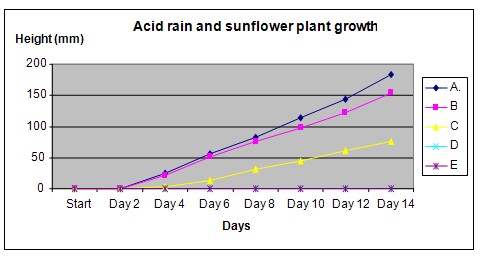 Conclusion
The hypothesis that sunflower plants will grow best at pH levels between 5.5- 7.5, is proven to be true. At a pH level below 5, the seeds either did not germinate or demonstrated stunted growth.

Acid rain is causing extensive damage around the world. Plants are not the only ones affected by acid rains. Entire lakes have lost their supply of fishes due to acid rain. This has affected the livelihood and source of food for the people living near these lakes. Building and cars are also being stripped of their paint due to acid rain. Bridges and other metal constructions are getting corroded faster causing the structures to weaken.
Also consider
What would happen if the science fair project were to be repeated using different acids like hydrochloric or nitric acid?

The science project can be modiied to compare the growth of different types of plants which may be more tolerant or less tolerant towards lower pH levels.
References
Acid rain's effect on plants and wildlife - http://www.essortment.com/all/acidraineffect_rqmz.htm

Information about the autumn beauty sunflower plant - http://www.ehow.com/facts_5767861_information-autumn-beauty-sunflower-plant.html
Videos