| | |
| --- | --- |
| | Video games and concentration |

Complexity level:
9
Project cost ($):
20
Time required:
1 day to prepare, 14 days for science fair project
Material availability:
Requires participation of school-goers who have video game consoles/computer games at home.
Safety concerns:
Basic safety requirements. Consent forms required.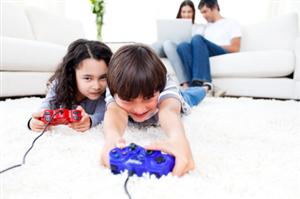 Abstract
This science fair project was done to find out how playing video games improves the concentration of students and consequently their performance at exams.
Hypothesis
Children who spend a large number of hours playing video games will be able to concentrate better at their studies.
Background
Video games and concentration

Studies have shown that playing video games has helped children with attention deficit/hyperactivity disorder (ADHD) to improve their concentration. These children were exposed to video games for 6 months. They were allowed to play video games for 5 to 7 sessions per week. Their parents and teachers were able to see significant improvements in their behavior at home and school after these children were introduced to video games.

Some video games can be very stimulating to the brain and help to train our brains to focus and concentrate better. We need focus and concentration to achieve what we want for ourselves. Compared to watching television, playing video games can actually be considered as exercise for the brain. Some video games even help us to improve our problem- solving skills.

The brain is one of the vital organs in our bodies. Just as our body needs exercise, so does our brain. Training the brain to focus, concentrate and think constructively can lead us to higher accomplishments.
Scientific Terms
ADHD (Attention deficit /hyperactivity disorder), brain, vital organ
Materials
The materials required for this science fair project:
- 10 boys and 10 girls aged 15 years
- 2 sets of exam papers of equal difficulty (Labeled Paper A and Paper B), with corresponding study notes. Each exam paper should be designed to test the student on a variety of subjects like history, geography, the sciences and math. Each paper should have at least 50 questions (fairly intense).
- A quiet examination room
- 20 video games
- An assistant to help coordinate the examination
Procedure
1. For this science fair project, the independent variable is whether or not the participants were allowed to play video games for 2 weeks. The dependent variable is how well the participants did at the examination. The constants (control variables) are the level of difficulty of the exam paper, the number of questions and the duration of playing the video games.

2. Two sets of exam papers of equal difficulty are prepared and the papers are labeled A and B. 20 copies are made of each of the exam papers.

3. Model answers are prepared for the 2 exam papers to help with the marking and grading.

4. The 20 students are brought into the examination hall and seated. The study notes for exam paper A are first distributed to the students and they are allowed 90 minutes to study the notes. Thereafter, exam paper A is distributed to the students. They are given 1 hour to complete the exam.

5. For the next 14 days, the students are required to play video games for at least 2 hours everyday.

6. After 14 days are over, the students are brought into the examination hall again and seated. Study notes for paper B are distributed and the students are again alloted 90 minutes of study time immediately prior to sitting for exam paper B (for which they will be given 1 hour to complete).

7. All the 40 exam papers are marked and graded using the model answers and the results recorded in the table given below.
Observation
The results show that the students' performance in the exam did not change before and after playing video games regularly for 2 weeks.
Condition

Exam results for paper A and Paper B

Average results

1

2

3

4

5

6

7

8

9

10

Boys-Paper A

71

67

79

63

84

76

68

86

76

62

73.2

Girls-Paper A

78

79

83

76

69

82

65

78

74

81

76.5

Boys-Paper B

69

65

81

67

81

78

71

85

79

65

74.1

Girls Paper B

76

74

81

79

72

80

61

74

71

63

73.1
The chart below represents the results of our science project experiment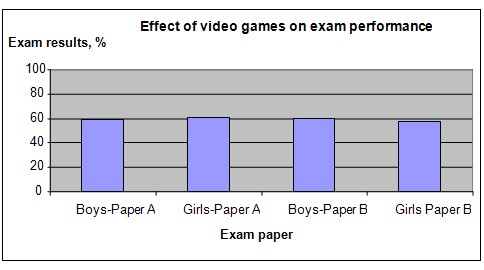 Conclusion
Our hypothesis that children who spend a large number of hours playing video games will be able to concentrate better at their studies, is not proven to be true.

A possible explanation for our observations is that even though playing video games might have helped the students to improve in their concentration, there was no revision or additional knowledge input in order to help improve their exam results.

Video games are known to lead to addiction among children and adults. However, under careful monitoring and supervision, video games can be used to help train children improve their concentration and eventually their focus in the classroom.
Also consider
To improve the reliability and accuracy of our results, a larger sample of participants should be used, and perhaps the participants should be tested after a much longer amount of time of exposure to video games (eg. several months). We could also perhaps redesign our test, to improve its reliability - for example, multiple tests/exams could be administered over a period of time, to ascertain more accurately if the children's ability to concentrate at their studies has improved as a result of long exposure to video gaming.

The science fair project can possibly be repeated, this time, by having the kids practice racing games on the computer and then comparing their performance on a go-kart track.

Another alternative would be to perform IQ tests before and after long exposure to video gaming (several months)
References
Video games may improve concentration of children with ADHD - http://www.medscape.com/viewarticle/703152

Brain training games – play the games that will improve your concentration - http://ezinearticles.com/?Brain-Training-Games---Play-the-Games-That-Will-Improve-Your-Concentration&id=1273153
Videos