| | |
| --- | --- |
| | Effectiveness of ginger against motion sickness |

Complexity level:
6
Project cost ($):
30
Time required:
1 hour to prepare, 1 day for the science project experiment
Material availability:
Easily found at a supermarket or candy store
Safety concerns: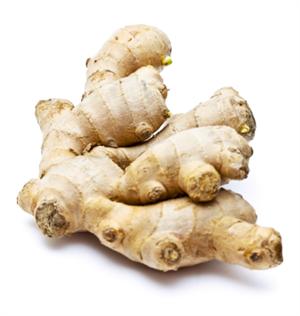 Abstract
This science fair project was performed to find out the effect of ginger on motion sickness. The science project was done by comparing the effect of motion sickness on participants before and after eating ginger candy.
Hypothesis
Eating ginger candy helps to reduce the effect of motion sickness.
Background
Ginger

Ginger is the tuberous rhizome of a tropical plant that is normally used for flavoring in cooking, especially Asian cuisine. It is also commonly used as a spice and alternative medicine. Ginger is also suitable for preserving food because of its potent anti-microbial and antioxidant properties.

The ability of ginger to reduce blood clots has also been found to be useful for heart patients. It is also believed to be able to reduce blood cholesterol levels. The antioxidants found in ginger are both anti-mutagenic and anti-inflammatory. It has been proven that the antioxidant curcumin found in ginger is able to stimulate the enzymes that eliminate cancer causing substances from our body. It has also been found to be able to inhibit various types of cancer.

Ginger is also useful in treating symptoms of motion sickness like nausea and vomiting. It is recommended that you take ginger 30 minutes before traveling or taking part in motion-sickness inducing activities like boating or carnival rides. It is also found to be safe for use by pregnant women suffering from morning sickness.
Scientific Terms
Tuberous rhizome, antimicrobial, antioxidant, anti-mutagenic, anti-inflammatory
Materials
The materials required for this science fair project:
- 10 participants
- a 5 meter long straight sidewalk
- 1 box of chalk
- 1 measuring tape
- a stopwatch
- 1 bag of ginger candy
Procedure
1. For this science fair project, the independent variable is whether the participants are given ginger candy or not. The dependent variable is the time taken to walk the straight line. This is determined by using a stopwatch to measure the time. The constants (control variables) are the number of time the participants are made to spin before walking, the distance, and the number of ginger candies eaten per participant.

2. Using a piece of chalk and the measuring tape, draw a straight 5 meter-long line on the sidewalk with the help of an assistant. The width of the line should be about 50mm.

3. Ten participants are made to walk on the line the full 5 meters and then turn back to walk another 5 meters. The time taken by each of the 10 participants to walk the 10 meters is recorded in the table given below.

4. The participants are next made to close their eyes, stretch out their hands side ways and turn around 20 times. This will be done one participant at a time. The assistant will stand beside the participant to ensure that he does not fall due to giddiness.

5. After a participant has completed the 20 spins, procedure 3 is repeated and the time taken to walk the 10 meters is recorded in the table given below.

6. After the participant has completed the 2nd walk, he is given 10 ginger candies to eat. About 30 minutes after he has eaten the ginger candy, procedures 4 and 5 are repeated and the time taken by the participant to walk the 10 meters is recorded in the table below.
Observation
The results showed that all the participants were able to walk the line more quickly after eating the ginger candy.
Condition

Time taken by participant to walk 10 meters on line after 20 spins (seconds)

1

2

3

4

5

6

7

8

9

10

Before turn

16

18

15

19

17

16

19

15

17

20

After 20 spins

35

39

32

41

35

37

43

31

36

45

After 20 spins and ginger

28

31

25

35

30

27

37

26

33

38
The graph below represents the results of our science experiment.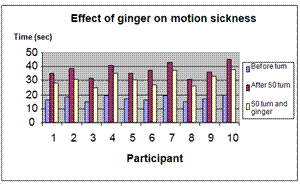 Conclusion
The hypothesis that eating ginger candy helps to reduce the effect of motion sickness is proven to be true.

Ginger has a very sweet aroma but a strong taste. Although ginger has traditionally been a popular seasoning used in Asian cooking, it has also found its place in western dishes like bread, pudding and pies. Ginger is also used in traditional alternative medicine to cure colds, coughs and stomach ailments.
Also consider
This science project can also be repeated using ginger beer, ginger tea or ginger pickles.

Try to repeat the science experiment by comparing the effects of ginger on male and female participants.
References
Ginger - http://en.wikipedia.org/wiki/Ginger

Ginger for nausea, motion sickness and health - http://hubpages.com/hub/Ginger-for-Nausea--Motion-Sickness--and-Health

Ginger – useful for more than just candy - http://www.vegetarian-nutrition.info/herbs/ginger.php
Videos