1) Locate three different species of tree, preferably flowering trees. Most non-flowering trees are evergreens, so choose non-evergreen trees. Although insects do frequent some non-flowering trees, they are more likely to be abundant on flowering trees.
If you donít know what species the tree belongs to, thatís okay. Just make certain that the three trees are different. You can do this by comparing leaf shape, or the number and arrangement of leaves on each branch. If the tree is flowering, compare flower color, number of petals per flower and arrangement of flowers. If the tree is fruiting, compare the fruit. Botanists also use features of the bark to identify tree species, but that can be tricky.
Hint: You will have better luck finding insects if you look for "feeding damage" on the treeís leaves. Feeding damage includes skeletonization or holes in the leaves, which indicate the leaves on that tree are tasty to insects. Trees with no feeding damage may not be good host plants.
2) Start with one of your three chosen trees. Choose three branches to beat from this tree. Lay the white sheet directly underneath the first branch and tap with a stick. Make sure you hit the branch itself and not the leaves. If you hit too hard, you may break the branch, and if you hit it too lightly the insects wonít fall off the branch. You can also work your way down the branch towards the tip.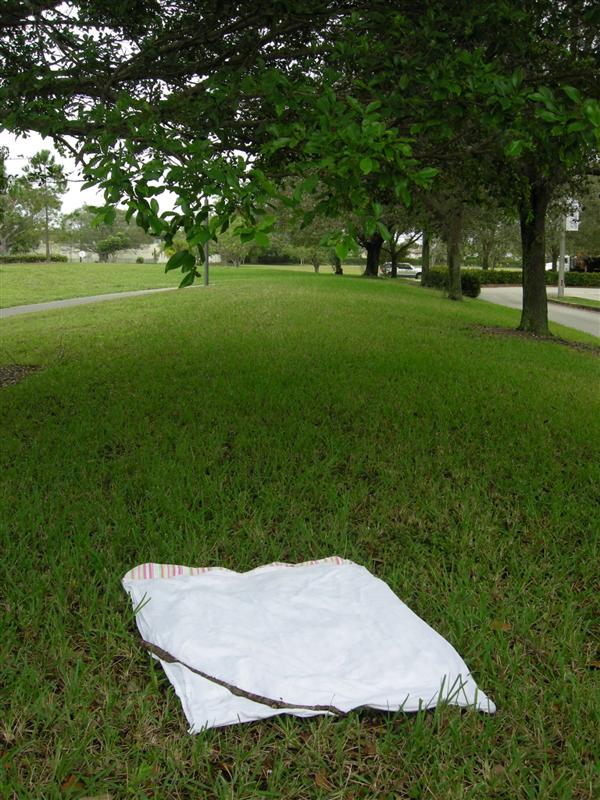 3) As you sample each branch, record the number of insects on each sheet, using table 1 provided. If there are no insects, mark 0 on the table. If there are insects, count the total number of insects on the sheet. If there are too many insects to count, estimate the total number by counting the number of insects in a section and multiplying that by the total number of sections. Record the number in the data table.
The beating sheet is positioned directly under the branch you are going to sample.
4) If there are insects on the sheet after beating, capture them using your collecting vials. If there are too many insects to collect, choose 5 insects at random from the sheet. Donít collect too many insects. It will take some time to learn how to use the key, so taking only a few insects from each tree is sufficient.
Some insects, like treehoppers, may move so quickly that you wonít be able to collect them. Some insects, like caterpillars, may be easily picked up and transferred to a vial. To collect other insects, you can cover the insect on the sheet with the open end of your collecting vial, reach your hand under the sheet while holding the vial in place, and gently push the insect into the vial. Finally, slide the cap under the vial, keeping it in position so that the insect doesnít escape.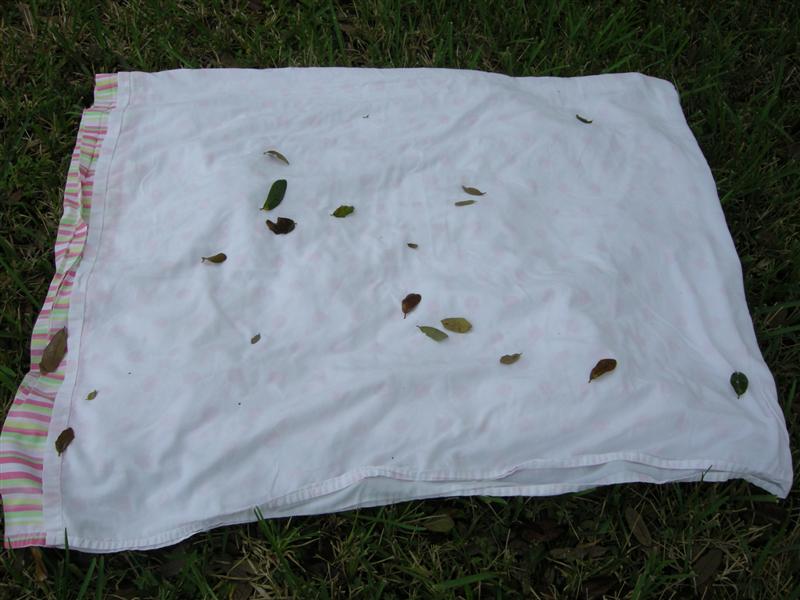 In the above example, only one weevil was found on the sheet after beating.
5) Repeat steps 2 and 3 with all 3 branches for each of the three trees (A total of 9 branches).

6) Bring the insects back to your station to examine them. This may be your home or a lab. Place the insects in a refrigerator for several hours to "slow" them down. This wonít kill them and you will be able to release them after examining them, if you handle them carefully.

7) After you have cooled down the insects, take them out of the refrigerator one at a time, so that they remain cool for handling. First, try familiarizing yourself with using a magnifying lens for observing parts of the insect. Set the insect on the sheet of cardboard. With one hand, hold the magnifying lens and with your free hand move the insect with tweezers as needed. You may want to place pins around (not in!!) the insect to hold it in place.

8) Once you have figured out how to magnify the insect, turn to the dichotomous keys provided by the American Museum of Natural History
To identify insects, you will use either Key A or B, for arthropods with 6 legs. Please note that larval forms of insects, like flies, beetles and caterpillars, may have more or less than 6 legs. If you find a larval insect, it is most likely from one of those three insect orders.
Key A is for insects with well-developed wings, while Key B is for insects with tiny or missing wings. Some orders appear on both keys. Below is a list of orders from each key. The orders you will most likely find on trees are highlighted in bold text, while the orders you probably wonít find have N/A next to them.
Quantity of Insects

Tree 1

Tree 2

Tree 3

Branch 1

Branch 2

Branch 3

Total
Table 1. Total quantity of insects.
Insect Orders

Tree 1

Tree 2

Tree 3

Key A

Diptera (larval)

Ephemoptera

N/A

Lepidoptera (larval)

Trichoptera

N/A

Homoptera

Neuroptera (larval)

Psocoptera

Odonota

N/A

Isoptera

Mecoptera

N/A

Hymenoptera

N/A

Plecoptera

N/A

Ephemeroptera

N/A

Heteroptera

Coleoptera

Blattaria

Mantodea

Orthoptera

Key B

Phasmida

Collembola

N/A

Thysanura

N/A

Homoptera

Isoptera

Psocoptera

Thysanoptera

Hymenoptera (Ants & wingless wasps)

Siphonaptera

N/A

Dermaptera

Coleoptera

Total # Insect Orders Collected
Table 2. Insect orders collected by tree