Displaying your project
:: The Display Board
It's really important to know how to show off your project in the best way possible. The way you present your project shows how much effort you put into it. You want to make sure the judges can see everything they need to know about your project. If your display is not good, it could ruin all the hard work you did. To make a great display, you will need a backboard, your project report, and anything else that shows what you did - like models you made, things you studied, reports, pictures, surveys, etc. You have to make sure the display looks nice and is interesting. It should have enough information, but not so much that the judges are overwhelmed or distracted.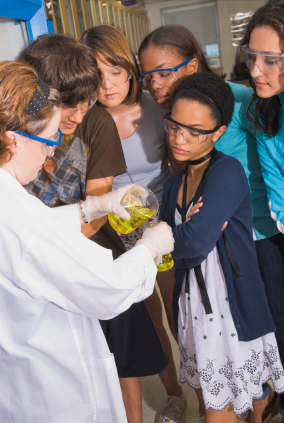 When creating your display board, make sure you follow the size and shape requirements provided. It's usually best to use a three-sided board for your display. You can make your own display board using materials such as sturdy cardboard or wooden panels, or you can purchase a pre-made display board from a do-it-yourself or office supplies store, or from a science supply company. Keep in mind that pre-made display boards may only be available in white or black, so you may need to cover them with paper or cloth to change the color. When adding items to your display board, choose your colors carefully to ensure that your project stands out against the background. If you're not sure what colors to use, consider using neutral pastel colors.
The Title
It's important to choose a clear and concise title for your project that will grab the attention of your audience. The title should be displayed in a font that is large enough to be easily read from about 3 feet away. You can purchase self-adhesive letters to create your title, or you can make your own letters out of construction paper to save money. You can also print your title using a computer and printer. Be creative and have fun with it!
The Content
Before organizing the content of your display board, make sure to check if there are any rules regarding the positioning of information. For example, there may be requirements for the placement of the project title, such as it being centered or a certain font size. You may also be required to include certain headings. Make sure to follow these guidelines to ensure that your display board meets the requirements.