| | |
| --- | --- |
| Complexity level: | 8 |
| Project cost ($): | 60 |
| Time required: | 1 hour to prepare, 1 day for science fair project |
| Material availability: | You will need to borrow a bicycle for this experiment. Breath analyzers may be purchased at a chemist. |
| Safety concerns: | Ensure that intoxicated participants make their way home safely. All cyclists should be made to wear safety gear. Cordon of the section of the carpark where you will be conducting this experiment with clearly visible signage. |
Hypothesis
Riding a bicycle using a cell phone is more dangerous than riding while intoxicated.
Overview
Comparing driving using a cell phone and drunk driving

Recent studies show that driving while using a cell phone is just as dangerous as drunk driving. Moreover the research has also found that using hands-free devices is just as much a distraction as hand-held phones.

According to the study, drivers who used cell phone typically drove more slowly. Their tailing distance also showed a 24% variation. Their braking speed was 9% slower and they were 19% slower in getting back up to normal speeds after braking.

Drunk drivers were tested at the legal limit for blood alcohol level of 0.08 percent. These drivers drove slightly slower then drivers using the cell phone, but their driving was found to be more aggressive. They were also inclined to tail the car in front more closely and used 23% more force when braking.

The number of intoxicated drivers on the roads at any given point in time will probably be smaller than the number of drivers using cell phones. This means however, that there may potentially be more accidents caused by drivers using cell phone compared to intoxicated drivers. Studies show that drunk drivers and drivers using cell phones have 5.36 times more chances of meeting with an accident.
Scientific Terms
Hands-free devices, braking speed, blood alcohol level
Materials
The materials required for this science fair project:

- An unused section of the car park
- 10 male participants aged 20 and above (must be able to ride a bicycle)
- you will need to ensure that the rules of your science fair permit science projects of this type. Ensure that all consent forms are obtained.
- 40 road side cones
- 3 dozen cans of beer
- 2 cell phones with hands-free ear-pieces.
- 1 bicycle
- 1 breath analyzer
- 1 measuring tape (at least 20 meters long)
Procedure
1. For this science fair project, the independent variable is the condition of the participant – talking on the cell phone or drunk. The dependent variable is the number of road side cones that get knocked down. The constants (control variables) are the blood alcohol level of the participants, their age, and the length and width of the course.

2. The cycling course is prepared in the car park. The course should have a couple of left and right turns. The total length of the course should be 20 meters. The width of the course is 1 meter. Road- cones are placed on both sides of the course. The distance between the cones is also fixed at 1 meter.

3. The 10 participants are each assigned a number from 1 to 10. They are then made to cycle the course one person at a time and the number of cones knocked down is recorded.

4. In the next round, the 10 participants are made to navigate the course one person at time while talking on  a cell phone, using a hands-free earpiece. Ensure that they are actively engaged in conversation for the entire duration of the experiment, as they navigate the course. Again the number of road side cones knocked down is counted and recorded.

5. For the final round, the 10 participants are given beer to drink. Using the breath analyzer, their blood alcohol level is checked after drinking each can of beer. Once they have reached the permissible limit of 0.08 percent, they are again asked to ride the bicycle along the course and the number of cones knocked down is recorded.
Results
The results show that using the cell phone while riding a bicyle leads to a slightly higher incidence of knocking down roadside cones, compared to riding whilst intoxicated.
Participant's condition

Number of cones knocked down

1

2

3

4

5

6

7

8

9

10

Normal

0

0

0

1

0

0

1

0

1

0

riding using a cell phone

3

3

4

5

4

3

5

2

4

3

riding whilst intoxicated

2

3

4

3

2

3

3

2

3

2
The results of our experiment are represented in the chart below: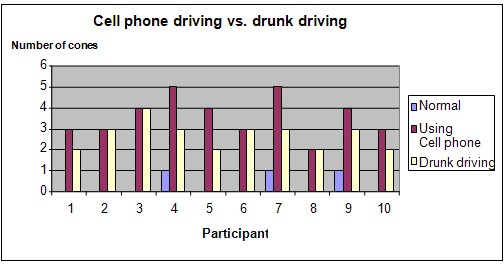 Conclusion
The hypothesis that using a cell phone while riding,   is more dangerous than riding whilst intoxicated, is proven to be true. However the blood alcohol level of the participants was within the legal limit during this science experiment. The results may possibly be different if the participants had a higher levels of alcohol leveling their bloodstream.

 Other than cell phone usage, other distractions during driving include lighting cigarettes, eating and drinking. New electronic devices that allow drivers to watch television or surf the internet and send emails will probably be found to be more distracting to drivers.
Also consider
The science project can also be repeated by having the participants eat or drink while cycling.

Modify the experiment to compare the performance between male and female participants, whilst using their cellphones or whilst intoxicated.
References
Driving under influence of a phone - http://healingsearch.com/Health%20News/Cell%20Phone%20Driving%20Like%20Being%20Drunk.htm

Driver on cell phone = drunk driving - http://www.cellular-news.com/story/18083.php

Cell phone use as dangerous as drunken driving - http://www2.potsdam.edu/hansondj/Drivingissues/20060830105036.html
Related videos
Hey there! Here are some awesome videos about this science project that we think you'll really like. They're not only super fun, but they'll also help you learn more about the science behind the project. So sit back, relax, and get ready to have some fun!!