| | |
| --- | --- |
| Complexity level: | 8 |
| Time required: | 1 hour to prepare, 31 days for the science project experiment |
| Material availability: | Easily found |
| Safety concerns: | Basic safety requirements > |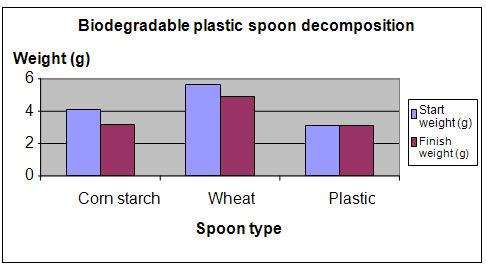 Related videos
Hey there! Here are some awesome videos about this science project that we think you'll really like. They're not only super fun, but they'll also help you learn more about the science behind the project. So sit back, relax, and get ready to have some fun!!
9-Month Long Biodegradable Spoon Experiment: Observing Spoon Decomposition in Different Liquids!" It is crucial to avoid touching the liquids, particularly the drain cleaner, after the lengthy 9-month incubation period. Let's see what happens to the biodegradable spudware spoons!
2-year Long Biodegradable Spoon Experiment: The spudware spoons proved their durability by withstanding the harsh effects of drain cleaner for almost 2 years! The spoon that decomposed the most in compost showed promise for decomposing biodegradable utensils in soil. However, a major issue with the experiment in this video is that limited oxygen inside the ziplock bags may have hindered decomposition, emphasizing the need to consider optimal conditions for decomposition.
This remarkable innovation offers a sustainable solution to single-use plastic utensils while also providing a unique edible experience.